Mankind has witnessed various ages since it first roamed the earth. An 'age' is not only named after the 'thing' which he used the most but also by the 'thing' which made a huge difference in his life. For example, the Stone Age marked the use of stone tools for hunting, gathering, and all other daily necessities. This simplified his life and he had more time to focus on art, culture, and other important things like agriculture and constructions. The same is true for the Bronze Age and Iron Age.
Likewise, today's age is called the Information Age or Digital Age because of our dependency on Digital Technology. The world is cruising towards complete digitalization and the current COVID-19 pandemic has accelerated it. Digital Technologies has changed the way we look at the world. It has eased our day to day tasks. It has opened the floodgates of knowledge and information to the masses. Digital Technology has brought the world just a 'click away'.
Digitalization has changed the course of the world. It is now used in every industry including Automobile, Medical, Transportation, Military, Banking, Entertainment, Space, Pharmaceuticals, Manufacturing, Printing, Communication, Education, and even Marketing.
In fact, Digitalisation has altered 'Marketing' the most. The advent of the internet, social media, and other online platforms have redefined marketing. It has given rise to a new field of study named 'Digital Marketing'.
What is Digital Marketing?
Digital Marketing can be defined as the advertising of any product or service through various digital channels like search engines, websites, social media, apps, email, etc.
In other words, Digital Marketing encompasses every marketing tool apart from traditional marketing methods like display ads, banners, flyers, newspaper ads, telephonic, radio, or even TV ads.
Why Digital Marketing?
Wide-Reach:
More than 60% (4.57 Billion people) of the World's population use the internet today. And 87% (3.97 Billion people) of internet users are using social media regularly.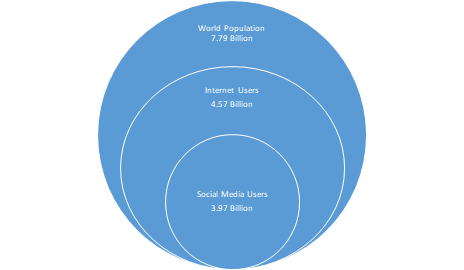 In the last few years, the time spent on the internet is increasing drastically. The average amount of time spent by an average individual on the internet is around 6 hours 40 minutes every day.
The break-up time spent online is as follows: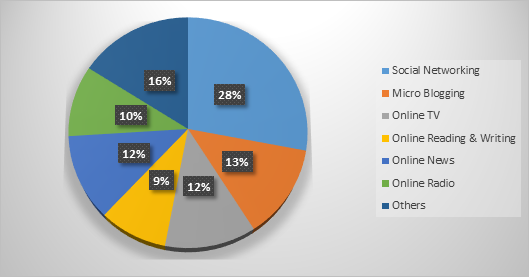 Bottom-line is that there is a considerable amount of people spending a considerable amount of time on different digital platforms.
Relevance:
It is estimated that an average person is exposed to 4000 to 10000 advertisements in a single day. Hoarding, TV commercials, banners, flyers, radio ads, billboards, etc. are a few of them. The problem is that traditional advertising is generalized. It will be displayed to every person irrespective of his needs.
On the contrary, Digital Marketing is designed to reach the people for whom the particular advertisement or product or service is relevant. This increases the strike rate and effectiveness.
Relevance is one of the best features of Digital Marketing offers.
High Measurability:
Helps in keeping track of the customer traffic and also in analyzing details about age, gender, location, age group, profession, etc.
High Scalability:
Unlike traditional marketing, Digital Marketing can be scaled according to one's budget, need, and availability of time.
Higher Engagement:
Digital Marketing has a very high level of engagement. It facilitates personalized experience and high effectiveness. Personalized ads get better results.
Cost-Effective:
Digital Marketing is a cost-effective marketing tool. It is around 80% to 90% cheaper than traditional marketing.
Provides Level Playing Fields:
Digital Marketing gives equal opportunity to small and medium scale businesses to reach their target audience.
Digital Marketing @ Indira
Indira Group of Institutes (IGI), Pune is one of the renowned educational groups in the country. Established in 1994, IGI has a long-standing experience of imparting quality education in the fields of Management, Engineering, Architecture, Pharmacy, Mass Communication, Schooling, etc.
IGI embraces the new technological advancements which are beneficial to its students and the country with a larger perspective. Considering the emerging field of Digital Marketing and envisaging its growth in the coming years, Indira has started two programs namely Bachelor of Business Administration (BBA) in Digital Business & Marketing and Advanced Diploma in Digital Marketing under one of its flagship institutes, Indira Institute of Management, Pune (IIMP).
IIMP is an autonomous institute approved by UGC and AICTE, New Delhi and is affiliated to Savitribai Phule Pune University. It has a team of proficient teachers and excellent placement records.
BBA in Digital Business & Marketing:
BBA in Digital Business & Marketing is a 3-year undergraduate program with an intake of 60. The course emphasizes on all the aspects of Digital Marketing and the related Businesses. It trains the student on all the digital platforms like Facebook. LinkedIn, Twitter, Google Ads, etc. and various tools (SEO, SEM, etc.) associated with it along with its application.
The course covers all the modules essential for Digital Marketing and provides practical training on live projects to give a first-hand experience to the students.
This course is suitable for all the aspirants eager for a promising career in the field of Digital Marketing.
For more information on the course structure, modules covered, syllabus, eligibility, admission process, fees, etc. please visit our website: www.indiraiimp.edu.in/DigitalBusinessandMarketing
Advanced Diploma in Digital Marketing:
Advanced Diploma in Digital Marketing is a 1-year postgraduate diploma with an intake of 50 students.
This course is suitable for all the aspirants desirous of making a career in the field of Digital Marketing of thinking of initiating a business venture.
For more information on the course structure, modules covered, syllabus, eligibility, admission process, fees, etc. please visit our website: www.indiraiimp.edu.in/advanced-diploma-in-digital-marketing-admission-details
Career pathways:
There are literally countless opportunities after completing the above-mentioned courses in Digital Marketing. Following is the list of the roles a student can assume after the successful completion of these courses.
Web Analytics Manager, Creative Director, Mobile App Developer, Interactive Marketing Manager, Head of Digital Operations, Chief Experience Officer, Digital Marketing Manager, Content Strategist, Virtual Reality Developer, SEO and SEM Specialist, User Experience Designer, Data Analysts, Email Marketing Specialist, Internet of Things Marketing Specialist, etc.
Conclusion:
Indira Group is one of the safest campuses in the town with regards to safety in the post-COVID-19 scenario. We strictly adhere to the directives issued by the government from time to time. We have taken all due precautions to curb the pandemic.
If you have the passion and determination to succeed we are here to strengthen your wings. Indira is the best place to have a great learning experience and shape your career in the illustrious field of Digital Marketing.
Also read,